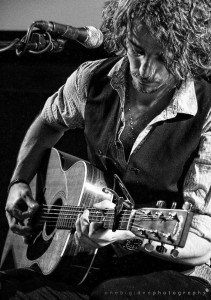 Joel is a renowned singer and acoustic guitarist in his own right. Adopting his front-man charisma for solo acoustic gigs, performing a unique take on classic rock and pop covers by the likes of The Rolling Stones, The Beatles, Tom Petty, Eric Clapton and The Faces, and occasionally he is even asked to perform a set made up just of Blues or Country or both!
Don't be put off by the fact it's just one man and his guitar – Joel has all the power and dynamics of a full band, ranging from the softest ballad to some proper Rock n Roll. His soulful vocals compliment his dexterous guitar playing, resulting in a uniquely talented, charismatic musician.
In his solo guise, Joel has performed all over the United Kingdom, from intimate bars and clubs to outdoor festivals, including including Brightlingsea Music Festival, Bures Music Festival, Newark Blues Festival and Firstsite, Colchester. Throughout his career he has supported artists such as Steve Winwood, ZZ Top, Jamie Cullum and many more!
If this sounds like your cup of tea, then why not contact Joel at joel@joelfisk.co.uk
View a sample of Joel's solo repertoire.