The "Joel Fisk & Jon Amor Electro Acoustic Duo", to give it its full title, originally came together as an experiment in the Summer of 2014, when the pair embarked on a short tour of the UK. The appreciation was apparent from the off, and both Fisk and Amor knew they were onto a good thing. In Spring 2015, whilst on tour, they recorded a show at "Blues At The Farm", Billericay, and released their debut album, "Live At The Farm" in mid-2015 to coincide with their largest tour to date.
Together, Fisk & Amor combine their back catalogues as well as some mutually-loved covers, which makes for an intimate gig, showcasing the pair not only as guitarists but as singers and songwriters too.
The chemistry hasn't gone unnoticed, as they've been nominated in the "Acoustic Act of the Year" category in the British Blues Awards two years running, leading them to be one of the most in-demand duos on the British Blues Scene.
Jon Amor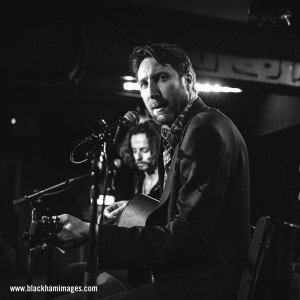 Jon rose to prominence on the British blues circuit in the early nineties as one of two guitarists in the trail-blazing blues band from Wiltshire, THE HOAX. The band toured the UK, Europe, and North America before disbanding in 1999 with four successful albums and a string of awards to their name. Over the following decade, Jon went on to become a singer-songwriter in his own right, releasing two ground-breaking albums of self-penned songs with his band AMOR. Jon's 2006 release "Unknown Soldier" was endorsed by a guest appearance from the legendary Robert Plant.
In 2011, he formed JON AMOR BLUES GROUP, a high energy, dynamic blues-rock outfit that toured Europe extensively and produced two highly acclaimed studio albums. The reformation of THE HOAX then brought two new albums to a grateful audience: 2013's "Big City Blues", a collection of originals written and recorded in California, and 2014's "Recession Blues: A Tribute To BB King". Amor can often be seen performing with THE BOOM BAND, an all-star British blues supergroup, of which he is a founder member.
Why not like them on Facebook