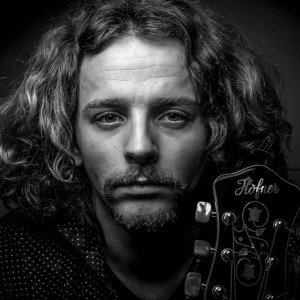 Joel first picked up the guitar at the age of four, having been brought up on the music of Eric Clapton, Dire Straits and JJ Cale. He spent the majority of his teenage years tracing their influences, leading him to Robert Johnson, Muddy Waters and BB King, where his love of Blues guitar developed.
As co-founder of LaVendore Rogue, the baby of genre-defying Alt-Blues act Hokie Joint, Joel has appeared on the same bill as Jeff Beck, Steve Winwood, Jamie Cullum, Moby and ZZ Top.
Hokie Joint's second album, "The Music Starts To Play" reached number 2 in the Amazon Blues charts just days after its release.
During his career with Hokie Joint, LaVendore Rogue and Tim Aves' Wolfpack, Joel has been nominated for "Guitarist of the Year" in the British Blues awards in 2012 and 2013, and was awarded Digital Blues' "Favourite Guitarist" in 2009.
His hard work hasn't gone unnoticed, as he finds himself as an endorser of both Hofner Guitars and Rotosound Strings.
LaVendore Rogue's new EP, "What's The Meaning Of…" is available on iTunes and Amazon and has already seen the band embark on a tour of The Netherlands as well as several high profile gigs in the UK, including The 100 Club (Oxford St.), the Blues Kitchen (Camden), Maryport Blues Festival, Blues On The Farm (Sussex) and Bures Festival (Essex) with The Pretty Things. Throughout this time, they have managed to write and record a full album, which will be released later in 2014.
Since 2012, Joel endorses Hofner Guitars and Rotosound Strings
Joel can been seen demonstrating their solid body and semi acoustic guitars in their range here