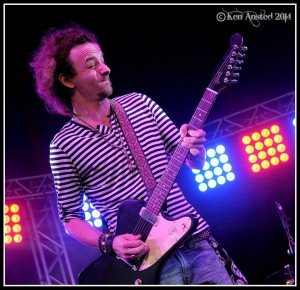 Following on from LaVendore Rogue's gig at Chiddfest on Saturday, it was a quick get-up-and-go on Sunday.
After a healthy breakfast (I'm sure) I hit the road.
Arrived in Ealing at 3pm after a surprisingly smooth ride into London, I began unloading the gear (3 trips from the road to the venue with a sack barrow).
Once again, it was a HOT day. We arrived in time to catch "Hat Fitz & Cara", who I'm ashamed to admit I hadn't heard of before, but will be hearing a lot more of them in the future. A great duo with a unique take on the blues. Check them out.
We were on stage at 5pm. Pumped up, for what was probably the biggest gig we've done in this line up. So pumped up in fact,  during my first guitar solo of the set in "Robert Johnson's Shoes", Tim managed to fall backwards over a monitor, yet somehow remain unscathed and avoid destroying the drum kit, bass rig, Gibson Firebird round his neck, and his 2 new hips. A lucky (yet utterly hysterical) escape!
We composed ourselves, shared the odd joke about it throughout the set, and carried on with our business.
We played well. Paul Lester and Tank kept the whole thing under control (one of the best rhythm sections in the country), Tim prowled the stage like something possessed, and I was taken back to the days of big festivals in Europe with Hokie Joint a few years ago, so the on-stage movements were plenty.
The crowd were fantastic – I specifically remember during the slow blues in the set ("Fulltime Lover" by The Fabulous Thunderbirds), that a group of young folks in the audience cheers, whooped and hollered after every phrase I played. Great stuff.
The show was a great success. Plenty of CDs sold, and a chance to do a couple of radio interviews afterwards to talk about the gig and drum up publicity for the release of our second album, "Never Saw Chester" next month (watch this space for more details).
Luckily, someone filmed the whole of the gig, in 3 parts, which you can see here:
As well as some of fantastic photos from Ken Ansted and Chris Cooper.