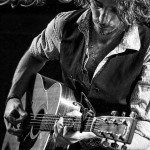 Hello and welcome to joelfisk.co.uk
The aim of this site is to keep you all updated on what I'm doing in all aspects of my musical life, as well as give you a background of what I do, and how I could be of use to you.
As you can see, the menus above direct you to the relevant areas of the site.
So, what am I up to?
At present, I'm working on mixing the début LaVendore Rogue album. This is my second production for the band, using ProTools, and so far I'm very pleased with what I'm hearing. Hopefully you will think the same when the album is released later in the year. I'm very proud of what we've done with the album, and feel it contains the best material JoJo Burgess and I have written to date.
There's also a new Tim Aves & WOLFPACK album on the way too. I was "just" a guitarist on this one, which was quite a pleasure. It carries on from where the last album, "The Burnham Sessions" left off, but includes a few more original tracks, as well as some more Howlin' Wolf songs played in our own unique way.
In addition to that, the BBC's very own Stephen Foster has kindly invited me to open the set for Gerry McAvoy & Friends next Thursday (29th May), at the Cult Café, Ipswich. Gerry & Co will be paying tribute to Rory Gallagher, which promises to be a fantastic night. I'm really looking forward to this one.