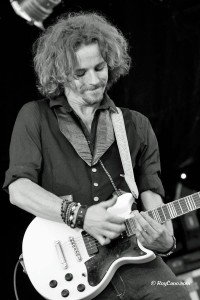 It's been a while since JoJo, Cupsey and I have done a big festival on the Blues scene. Not since the days of Hokie Joint have we been able to drink, eat and sleep for free, so I was greatly looking forward to Blues On The Farm near Chichester.
We made a fleeting visit during the last world cup, between a gig in Belgium and Linton Festival, so it was nice to be back and catch up with Julian, the fantastic organizer.
After what seems like an eternity since we played last, and just concentrating on the album, we had a rehearsal on Tuesday night, brushed up on a few things and put a setlist together. I always enter gigs on the Blues scene with a slight edge of trepidation with LaVendore Rogue, as what we're playing isn't technically "Blues". JoJo, Cupsey, Tank and myself are all primarily Blues musicians, but have always wanted to put a different twist on it.
We hit the road at 11am, and arrived at Appledram Farm around 2:30pm. Greeted by Mark Ede at the gates, we unloaded our gear and had a quick refreshment in the form of a couple of cans of Carlsberg, courtesy of the festival.
I managed to catch up with a new pal in Ian Jennings, double bass player-extraordinaire with Lisa Mills and Mud Morganfield, who I had the privilege of supporting a few months ago with Tim Aves & Wolfpack.
Anyway, we took to the stage at 5pm, opening with "The Maze" – not a Blues track by any stretch of the imagination, but was warmly received. The deeper we got into our set, the more the crowd were behind us. From what I can remember, the standout applause was for songs such as "Tattoo", "Siesta Resistance" and our last minute encore, "Goodnight Irene". Always a popular song with the Blues crowd.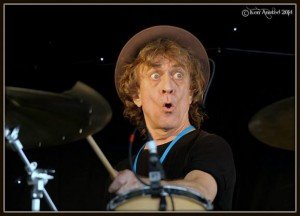 We left the stage feeling confident about what we'd achieved. Continued to pack away our gear, then tuck into our dinner. I opted for a hog roast as quiche just doesn't cut it after a gig.
As the night went on, more refreshments were consumed, resulting in Cupsey purchasing a Native American head dress, me purchasing ANOTHER pair of sunglasses, and JoJo asking Kate Winslet (yes, Kate Winslet), whether she was Kate Middleton. Nothing out of the ordinary there then.
We arrived safely back in Colchester at 3am, thanks to some splendid driving by Tank, unloaded the gear, and slumped into approximately an 11 hour sleep.
Not bad for LaVendore Rogue's first festival. We've got a few more lined up over the next few weeks, including Kelvedon, Bures, Chidfest and Maryport; check the gig guide for the full list
Here are some great photos by Sarah Reeve, Ken Ansted and Roy Cano