As I write this latest blog entry, I'm surrounded by microphones, lyrics, chord charts and cups of tea. This is all down to the fact I'm embarking on my busiest period as a musician yet. Starting this weekend, I'll be playing nine gigs in ten days with 4 different bands. To say I'm looking forward to this is a bit of an understatement.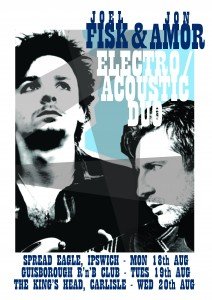 So, here's what's happening: On Saturday night, I'll be playing a solo gig at the wonderful Alehouse in Chelmsford. Sunday lunchtime, I am expecting the arrival of one of my favorite guitarists to ever emerge from the British Blues scene, in the form of Jon Amor. Jon and I have arranged to do some gigs together after taking part in the world famous jam session at Scarborough Top Secret Blues Festival earlier this year. We've known each other for a few years, but our paths have only crossed a couple of times. It appears we share the same interests in music, food and television, and I have been warned by Jon that this mini-tour may end up being a re-write of Steve Coogan and Rob Brydon's "The Trip", only slightly less glamorous than Italy. Suits me!
We kick off of 6pm on Sunday 17th at The Pub in Braintree. A new venue to me, despite the fact it's only 20 minutes down the road. Monday we're off to one of my favorite local pubs, The Spread Eagle, Ipswich, where we'll be making some noise from 9pm. I'm hoping to see some familiar faces at this gig, supporting the pub and live music in general.
Tuesday we're off up north to Guisborough, where we're playing the RnB Club. I played there a few years ago with Hokie Joint, so I'm looking forward to returning to what I remember being a great venue.
Then we're on to Carlisle to play The Kings Head on the Wednesday. This wraps up the mini-tour – I don't think either of us know what's going to happen, except that we'll have a great time!
If you can call a six hour drive a day off, then that's what Thursday is.
Friday I'll be at Round Midnight Jazz & Blues, Islington for the album launch of Tim Aves & Wolfpack. Having spent over a year recording and mixing our second album, "Never Saw Chester", it's going to be great to release it, and where better to do it than at one of the best London venues.
I can't tell you much about Saturday, other than The Struck Bats are playing a private party. Our first gig with new recruit Geoff Johnson.
Sunday I'll be returning to my local, The Fat Cat, Colchester, where I'll be playing a solo set at 5pm. I love playing at this pub – great atmosphere, great beer, and walking distance (it'd be rude not to pick the car up in the morning…).
Finally, Monday I'm making a rare appearance near my home town, at The Star, Wenhaston – there's a beer festival going on, and I'm the entertainment!
If you can make it to any of these gigs, it'd be great to see you – no doubt I'll be detailing the events as they unfold, so watch this space!
See you on the other side!