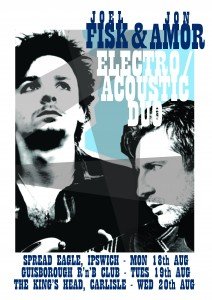 It is a great pleasure to announce I'll be doing some gigs with the fantastic Jon Amor in August.
I've known Jon for a couple of years, with our paths crossing at various gigs on the Blues circuit, as well as seeing him many times with The Hoax.
Having jammed with Jon and Ian Siegal at Scarborough Blues Festival earlier this year, we got talking, and decided to get together for some gigs.
We share the same tastes in music, comedy and alcohol, so this promises to be a fantastic few days on the road.
Firstly, we'll be playing The Spread Eagle, Ipswich on Monday 18th August, then off to Guisborough RnB Club on Tuesday 19th, finishing up in Carlisle at the King's Head on Wednesday 20th.
We're hoping to have an extra date for Sunday 17th too, so watch this space.
All I know is that it'll be great fun for everyone involved!